This weeks recipe will suit your needs whenever you need to rejuvenate from the inside and out. Kamalaya Detox Juice is the signature beverage from Kamalaya Resort and it's served as a part of their many wellness programs and retreats. Drink it with your dinner, pre/post workout or whenever you feel like!
Coconut water replenishes and cools the body, while basil and pineapple support digestion –a good accompaniment to any meal.
Coconut water contains electrolytes, making it a natural hydration beverage for hot climates and post-exercise training. It also aids in reducing fevers, calming the nervous system and emotional imbalances, and flushing the liver. It is a potent detoxifying agent, which neutralises toxins in the blood.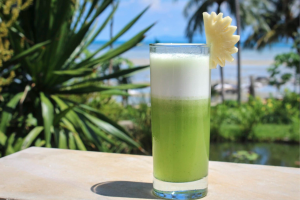 Ingredients
Makes approximately 350 ml (1 serve)
300 ml coconut water (one coconut)
50 ml fresh pineapple juice
5 g basil leaf (one bunch)
Method
Place all ingredients in a blender with a few ice cubes and blend on medium speed until well mixed (around 30 seconds).